ShowShoeMe Diamante Fully-Encrusted Posing Shoes.
All Base Shoes are Manufactured by Pleaser USA Inc.
These shoes will take up to 50 solid hours of work depending on your chosen heel/platform height, so please be patient during their creation!
Please allow a creation and delivery time of up to 5 weeks on this Customisation (the workshop gets hectic during competition season!). Once your order is placed and paid for, you will be notified of the estimated delivery date via email. If you would like to enquire about processing and delivery times for ShowShoeMe customisations, please use the 'Contact Us' Page and we will respond to you as soon as we can.
Description:
Your chosen type of diamantés will cover the full shoe base - heel underside and platform. The background colour of the design will be done with your selected leopard colours.

If you would like a different shoe style to be used, please contact us and we will do this for you.
This design is available on all shoes in the drop-down selection.
Each customisation comes with a small bag of spare sparkles - Just incase!

You can view this customisation on our Instagram and Facebook pages!

This Creation features 3mm & 4mm Rhinestones to the underside of the Shoe. There are 3 options of rhinestones to choose from:
Premium Acrylic: These are featured in the YouTube video (below) and are very sparkly! They are perfect if you need your sparkles without the big price tag!
Eimass: These cut glass Crystals are amazing! They are a fantastic alternative to Swarovski and can offer that little bit more sparkle than Acrylic rhinestones - Check out the Eimass video below!
Swarovski: Need we say more!
(Base Shoes are all subject to availability – See Terms*)

*Please note that each pair of shoes customised to this style will differ slightly, as all customisations are done by hand.

*Due to the custom nature of this product, all sales are final. Returns are not accepted.

Premium Acrylic Crystals:
Cocktail-508 and Delight-608 in full premium acrylic crystals:
Here are more leopard designs we have done:
Pleaser Adore 702: (Baby pink and Hot pink)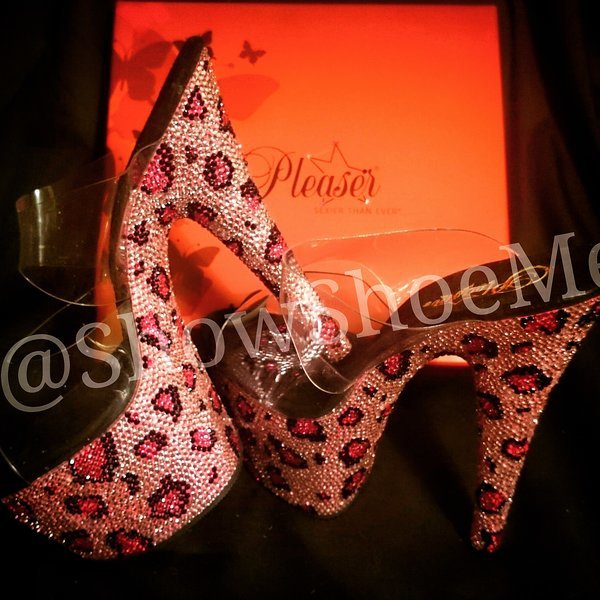 Pleaser Delight 608: (Champagne & Coffee)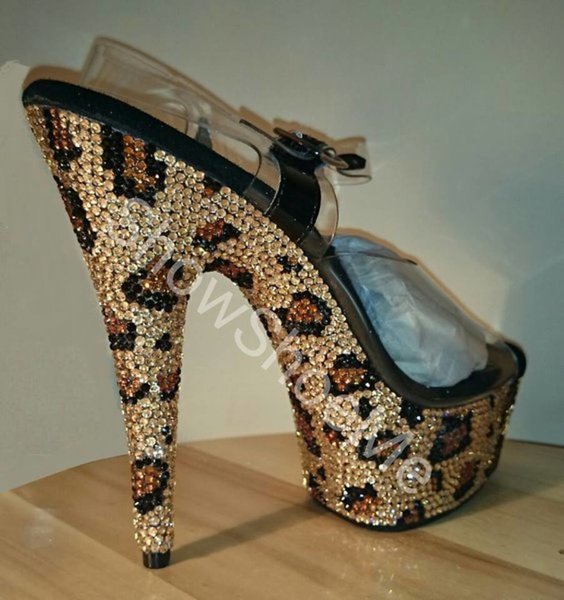 Due to the custom nature of ShowShoeMe products all sales are final - Returns will not be accepted
If you need to cancel your custom order, please do this as early as possible. If work has started on your custom shoes, you will only be offered a partial refund, because of the time somebody has spent on creating your order. The refund amount will depend on the amount of work carried out.